Cello Cases:
Presto padded bag:
Seven draw-bolt latches
Weather-tight seal
Molded foam padding
Bow holders
Small accessory compartment
Back pack straps
Mutltiple handles
Approximately 13 lbs
Available in black, blue , green, red, silver, white, and yellow with pebble finish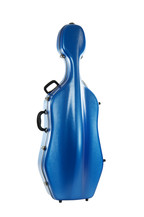 Samuel eastman dart shaped
Designed to be both lightweight and durable, providing comfort for the user as well as security of the instrument. Each case features a Cordura cover with a music pocket, soft velour padded interior with an accessory compartment, two bow spinners and room for a shoulder rest. Two shoulder straps are included.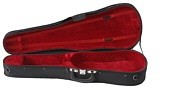 Tempo Classic cases
our finest quality cases. Each Hill-style case features our finest quality fittings, 4 bow holders, an easy grip subway handle, back pack straps and a Cordura cover with a full music pocket. Interior is plush velvet with a matching blanket.Designed to be both lightweight and durable, providing comfort for the user as well as security of the instrument. Each case features a Cordura cover with a music pocket, soft velour padded interior with an accessory compartment, two bow spinners and room for a shoulder rest. Two shoulder straps are included